This is an archived page.
Please see [here] if you're looking for the current "Save the Train" home page.
Please see [here] for the TransWilts site.
---
Friday, 26th March 2010. Launch of TransWilts Community Rail Partnership. Bridge House, Trowbridge, from 19:30
An exciting new step forward to rejeuvenation of the line, its service and its use
BUSY, EXCELLENT MEETING ... see [here] for initial report

Train service remains dire - southbound from Swindon at 06:15 and 18:45, northbound from Westbury at 07:02 and 19:35. Please pledge your support if you would like to see an increase to six trains a day -
arriving Swindon at 07:48 08:53 11:50 14:50 17:36 and 20:19,
returning at 06:18 09:02 12:02 15:02 17:55 and 18:45.


Keynote for 2010

Forum archive ... Blog archive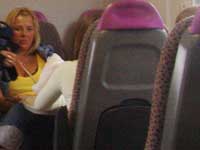 January 2006 - please WRITE
Over the next few weeks, First and the Department for Transport are planning the Timetables from this December and they're looking for details our our aspirations in which they'll look for a strong business case. It's more important now than ever to make inputs - see details. Wilts County Council may have inputs too, as may the South West Regional Assembly. Write to your WCC councillor or to George Batten at County Hall.

Personally, I'm recommending a 2-hourly train service which would be practical and more profitable (or at least make less of a loss) than the proposed service and it WOULD BE WELL USED TOO. Link - the full text of that case. As you'll see from that document, I've over 100 customers, over 100 petition contributors, and over 800 web site visitors backing me up.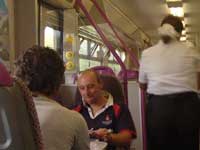 The new franchise still proposes service CUTS of two thirds in trains on the line through (and calling at) Melksham. However, they wrote to me on 20th December stating that no final decisions have been taken. So it's very much worthwhile contacting them - see address link page and link to open letter to First Great(er) Western's MD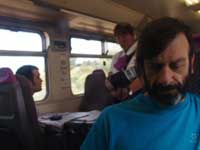 The franchise was awareded to the First Group on Tuesday, 13th December. Press releases from the First Group and the Department for Transport were strong on all the great things the new franchise and sparse on Melksham issues. As I write, feedback from my press contacts and the BBC tell me that they're being told that Melksham is to get the service that the SRA requested - i.e. the cuts go ahead. I'm awaiting confirmation.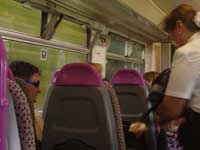 We await answers from the Department for Transport both to letters written directly to them, and via our MPs. We await the decision on the new franchise on 23rd December. At the least, we know that we've made every effort to make teh decision makers aware on the Swindon - Westbury - Salisbury - Southampton service and the effect it wouold have on Melksham is it was discontinued. We've made them aware that we consider the alternative that was proposed to be inadequate and inappropriate, and we've supplied them with new data showing a continuing dramatic increase in traffic, ticket sales and interest. Read more about it on this site; follow the links on the right and also see new pages of historic pictures, our archive of what you have to say and what I have to say, latest statistics and my unanswered letter to the DfT (perhaps unanswered because there IS no good answer?


Campaign letters and updates 2005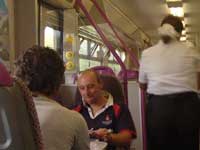 See October Update for details of your MP, minister, and officials to write to. Also links to growing traffic figures and perhaps the odd scandal as to how the bidding system fails to consult properly. See my letter to Department for Transport officials to see all the new information that's come to light since the new service level was dreamed up. See open discussions and daily updates too.



Santa Special - 10th December 2005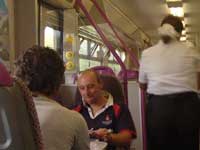 Com to Swindon on the lunctimne or afternoon train from Melskah, and return on the 17:50 from Swindon. Special fares and presents for the children available if you book ahead - pop into the Tourist Information for tickets as from the start of November.



Kiss and Ride Day - 18th October 2005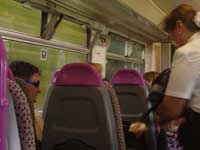 We served coffee and tea to commuters leaving Melksham on the 07:45 to Chippenham and Swindon, and on the 06:56 and 09:12 to Trowbridge, Westbury and Salisbury.



Meetings, 20th and 27th September 2005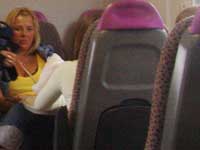 Successful launch meeting on 20th September - see meeting page (Link) for details and minutes (Link) for full log.

Follow up meeting on 27th September - minutes (link) contact me for details



September to November - weekend bus service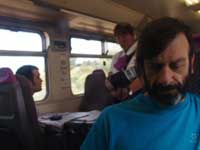 As part of engineering works between Bristol and Westbury, on Saturdays and Sundays 17th and 18th September to 5th and 6th November the train service from Westbury to Swindon via Melksham and back is not running. A replacement bus service will be provided.


Why is the service threatened?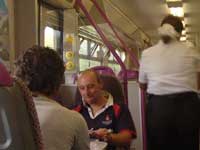 The current service of 5 trains per day started in 2001. The Wiltshire times of 18th May reported MELKSHAM train station will offer a range of new services from Monday, May 21, thanks to an agreement that has been struck by Wiltshire County Council together with local organisations and service provider Wales and West Trains..

It now appears that the agreement is superceeded by the present bidding process. - on 5th August 2005, a member of West Wilts District Council wrote to the Wilshire Times stating: We are writing to the Strategic Rail Authority in fairly robust terms saying this is not on and making no mention of the 2001 agreement.

I have written to (and received replies from) all three bidders for the franchise. They state variously that they cannot discuss their bid because that's the law, that they cannot discuss their bid because it's commercial in confidence, and that they can really only bid for what they've been asked ... unless someone steps in with extra funding. They are really not the prime movers in the lessening of the service, so to some extent they are the victims of the situation just as the people of Melksham are.



Are other services being cut?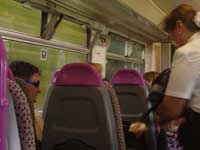 There are only two other services that are threatened with severe cuts in the renewal of the Greater Western Franchise. One train per day is being cut from the Newquay branch in Cornwall (down from 4 to 3 trains a day), and services from Oxford to Bicester Town are being slashed to 2 a day.

Bicester is a town of 30000 people (Melksham has 23000) ... however there are other differences.
Bicester has a second station with a frequent service to London and Birmingham.
The Bicester to Oxford route is paralleled all the way by a dual carriageway with a frequent bus service along the entire route.
The SRA offered an explanation of this in its bid request, but it does not give any reason for the Melksham reductions.
I conclude that Melksham is being uniquely single out for a reduction in service!



Weekend train disruptions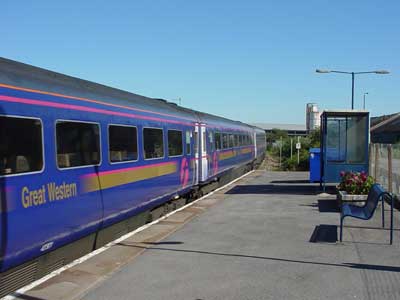 Saturday and Sunday 27th and 28th August, Saturday and Sunday 3rd and 4th September, Saturday and Sunday 10th and 11th September. Each weekend, the line through Melksham is being used as a diversionary route for Great Western trains to the West of England. With heavy use of the single track, local trains may be subject to delay (that's not an offical comment - it's on past personal experience). Picture - the 08:30 Exeter to Paddington passes nonstop through Melksham on 21st August 2005.



---
Further Information:
Home
Current Summary
Daily update
User forum
Consultation
Service now
Service future
Future Analysis
Recent Statistics
Recent letters
Letter to DfT
Save the train
Presentation
Support us
Other Maps
Station facilities
Station approach
Pictures
Trains diverted
History
About Melksham
Site Map
About this site