Do you support the return of an appropriate train service linking the five largest urban population centres in Wiltshire - Swindon, Salisbury, Trowbridge, Chippenham and Melksham?

If so, please pledge your support via the web site at:
http://www.savethetrain.org.uk/pledge.html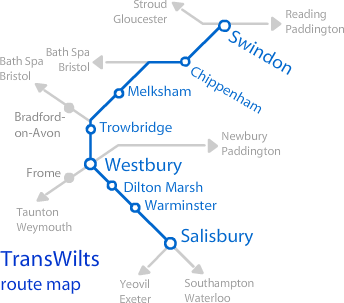 An Improved "TransWilts" train service - Salisbury to Swindon via Trowbridge, Melksham and Swindon will ...

1. Provide efficient public transport from Swindon and Chippenham to Trowbridge and Salisbury

2. Reduce public transport times from Melksham to Swindon from an hour to 25 minutes during the daytime, and cut out the need to walk across Chippenham!

3. Release resources for train service improvements from Frome to Bath and Bristol

4. Reduce overcrowding between Trowbridge and Bath, with passengers for Chippenham and Swindon able to use the direct service once again.

5. Provide extra capacity and services from Salisbury northward to Warminster and beyond - stepping towards the 2 trains per hour level recommended for this route

6. Provide a Southbound service from Dilton Marsh to Salisbury rather than having many trains terminating at Warminster.

7. Provide a practical and environmentally friendly alternative to the crowded (and getting busier) A350 road for travellers from Warminster, Westbury and Trowbridge to Chippenham and Swindon.

---

Currently there are just TWO round trips each day via Melksham - from Chippenham at 06:34 and 19:01 - and this level and timing of services is totally inappropriate for the traffic flows.

With six round trips a day - two each in the morning and evening peak hours, and two trips during the day - the line will provide a valuable and practical link from Trowbridge to Swindon, from Chippenham to Salisbury, and from Melksham to all of these places.

---
For TransWilts issues, see:
http://www.savethetrain.org.uk
For wider First Great Western issues, see:
http://www.firstgreatwestern.info/coffeeshop

27th March 2008 / Save The Train / 404 The Spa, Melksham, SN12 6QL / 01225 708225 / graham@wellho.net / http://www.savethetrain.org.uk / Prepared by Graham Ellis with diagram by Graham Ditte for STT. / E.&O.E. / Please feel free to redistribute this information and contact details.